Tackling troublesome bridesmaids
When warring bridesmaids threaten to ruin your wedding, it's time to take action.
Your wedding day is one of the happiest days of your life with and you should ensure that wedding venues in Essex, and your bridesmaids play a key role in this, offering love and support and making sure you look fantastic at all times. However, tensions can often arise within the bridal party, and warring bridesmaids can prove a real wedding headache. Of course, your bridesmaids don't have to be the best of friends, but if their battles and bickering threaten to ruin your big day it's time to take action.
Choose wisely
When selecting your bridesmaids it's important to choose wisely. Don't be pressured into having someone as your bridesmaid just because they're a family member or because they had you in your wedding. Instead choose the people you're genuinely close to and who you know will be supportive.
Also, think carefully about the size of your bridal party. The more bridesmaids you have, the more opportunities there are for conflicts and personality clashes. You could even decide to forgo bridesmaids altogether and instead involve your besties in your big day in other ways, for example by acting as witnesses or performing a reading during the ceremony. It may be unconventional but there is no rule to say you have to have bridesmaids and, if it saves you stress, it might be worth considering.
Nip it in the bud
If you know for certain that two of your bridesmaids are likely to clash, try to nip any trouble in the bud before it appears. Sit down separately with each of the maids and explain that you know they don't really like or get on with each other, but for your wedding you'd really appreciate it if they could put those feelings to one side and remain civil. You may even find that having to work together and spend time with each other helps to bring them closer together.
Bridesmaid bonding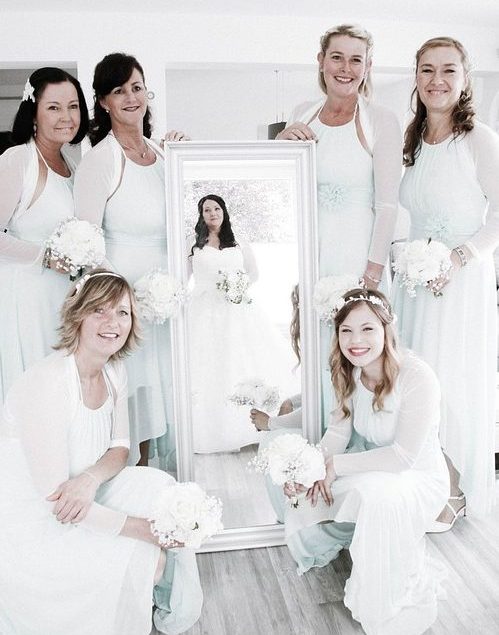 Many brides choose bridesmaids from different areas of their lives – family, work colleagues, school friends – which means that, very often, the bridesmaids won't already know each other. This can lead to awkwardness, especially if your bridesmaids have very different personalities, so try to arrange a low-key get together to give everyone an opportunity to get to know each other in a relaxed environment. It's best to do this as early as possible before they need to spend time together planning your hen party or shopping for bridesmaid dresses.
Stay neutral
In the run up to your wedding you'll have plenty of things on your mind and the last thing you want is to be dragged into any bridesmaid battles. So, while you can provide a sympathetic ear if you wish, do your best to remain neutral and avoid taking sides as much as possible. To help defuse the station try asking one of your other bridesmaids to act as peacekeeper. That way, you know the situation is being dealt with and you can concentrate on more important things such as centrepieces, wedding favours and dress fittings.
Take action
If all else fails don't be afraid to take action and lay down the law. It's your wedding day and your bridesmaids need to know how their actions are affecting you, so sit down with the people involved, either individually or together, and talk through the issues. Try not to be accusatory but equally it's important to be firm and let them know that their behaviour is upsetting you and causing you stress, and that it is not acceptable.
This 'pep talk' should hopefully give them the wake-up call they need and prompt them to put their feelings to one side and concentrate on giving you the best possible day.
And with your bridesmaids back on track you can relax and enjoy your wedding at Crondon.