How To Make Your Big Day Go With A Bang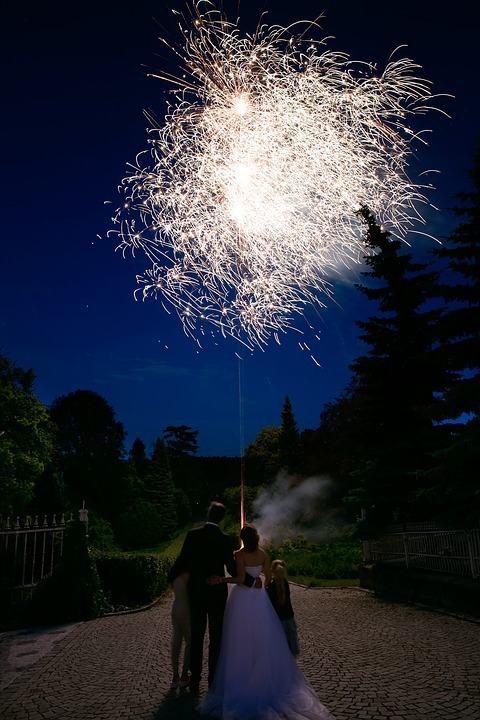 Inject an extra dose of magic and romance into your big day with a stunning firework display that is sure to impress your guests.
We're certain that you'll enjoy your day at our wedding venue in Essex, but if you're looking to add an extra dose of sparkle to your nuptials why not light up your evening reception with a stunning firework spectacular? It's a great way to wow all of your guests and it provides a truly fairytale ending to your big day – after all, what could be more romantic than standing hand in hand with your brand new spouse as you gaze up at fireworks exploding in the night sky?
There are some great ways to tie the display in with the rest of the wedding, whether that's by synchronising the display to some of your favourite romantic songs, or choosing fireworks that match your wedding colours for a coordinated effect. Alternatively you could throw out the rule book and go for a full on assault of colour. Either way, it's sure to inspire plenty of 'oohs' and 'aahs' from those watching.
Fantastic Photo Opportunities
As well as providing a stunning finale to proceedings, a fireworks display also offers some fantastic photo opportunities. A photo of you and your partner kissing as a riot of colour explodes overhead is sure to be one of your favourite shots of the whole day. You could also get your guests to form a walkway of sparklers for you both to walk through – a great alternative to the traditional confetti photo.
And if you are having sparklers you definitely want to have some time lapse photos taken. This is where the photographer uses a long exposure to capture you and your partner 'writing' something with your sparklers (a love heart for example). This type of shot looks really effective and adds something different to your final wedding album.
Just be aware that your photographer will need time and special equipment to capture these images so make sure you give them plenty of advance warning. It may also mean paying extra to keep your photographer there until the end of the night, but the results are sure to be worth it.
The Rules

Before going ahead and booking your fireworks display, it's important to make yourself aware of any rules and regulations that you need to comply with. The legalities can vary somewhat across the UK, but generally speaking it is against the law to set off fireworks after 11pm, so make sure you factor that into your planning – unless you're getting married at New Year, Bonfire Night, Diwali or Chinese New Year, in which case you have a couple more hours to play with.
Choosing A Supplier
The next thing you need to consider, is who to hire for your display. While DIY may be great for some elements of your wedding, your firework display is certainly not one of them. In order to get great results (and avoid potential disasters) it's always best to hire a professional licensed pyrotechnics company. Make sure your chosen company has appropriate and comprehensive insurance, as well as satisfied customers, and always double check that the quoted price includes everything and that there are no hidden extras.
If you're keen to have an explosive end to your wedding, please get in touch with our wedding coordinators. From helping you find a supplier to suggesting ideas that will really get your guests talking, we can turn your wedding dreams into reality and ensure that your big day goes off with a bang.