Summer is still hugely popular for couples tying the knot. If you've opted for a summer wedding, you might have been swayed by the longer daylight hours, great lighting or blue skies to provide the perfect backdrop for your photos.
Whatever your reason for tying the knot in June, July, August or September, we have the ideal venue for your big day. Make the most of having a summer wedding, with our venue nestled in the Essex countryside, with views across our championship golf course.
Located in Crondon Valley, the Baronial Hall is a Tudor, oak-beamed barn, steeped in history and an excellent way to bring a little charm and culture to your wedding.
Why choose a summer wedding?
Summer weddings are great if you want the option of outdoor space. They can also be an easy way to achieve a more relaxed atmosphere, for those who want to hold a less formal occasion. At Crondon Park our barn venue is fully air-conditioned and perfect for summer, and our hog roast is the ideal evening buffet to enjoy in the warmer evenings with your guests.
With summer weddings, you may have a better selection of flowers to choose from too, as well as honeymoon options, if you're thinking of staying closer to home, but still want to enjoy a bit of sunshine if you can.
If you are planning a Summer wedding, remember to get your save-the-date cards out early, with many families arranging their summer holidays in advance!
View Our Venue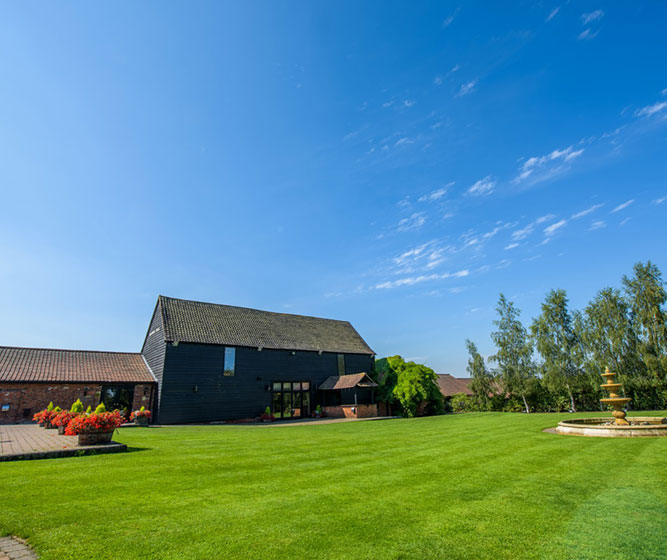 Our summer wedding venue
With over 1,000 positive reviews, we're proud to be one of the most popular wedding venues in the country, as well as British Wedding Award Winners in 2019 in the Countryside category, and Highly Commended in the Wedding Barn Venue category. In fact, the Baronial Hall boasts a magnificent rosewood flooring, one of the rarest and oldest wood block floors in the UK.
You'll find us in a peaceful spot in the Essex countryside, nice and secluded but still within easy reach of major towns, cities and motorways.
View Our Dining Menu
Request our free wedding brochure
Our brochure is a fully comprehensive reflection of what we have to offer. From our special Wedding Ceremony room, to our Baronial Hall Barn, it is no wonder that we are considered the wedding venue in Essex for all occasions.
Click here
Food and drink
The food and drink is always the most talked about parts of any wedding, and with Crondon Park you can be assured that will be for all the right reasons.
We're proud to source fresh local ingredients and the finest produce for our talented chefs to craft exceptional dishes that taste every bit as good as they look.
We take care of the entire catering for your day, from canapes to the three-course sit-down meal, to the evening buffet and even the breakfast the next morning. We also have an alcohol license and provide full bar and waiting staff, as well as a front of house manager to keep everything running smoothly.
View Our Accommodation
Accommodation
Extend your big day for as long as possible, by staying overnight in our stunning Bridal Suite. As well as views across the Crondon Valley, you can expect a four-poster bed, free-standing bath and the all-important makeup mirrors and lighting for getting ready.
There's also room for family or guests to stay, with a further five choices of overnight accommodation; Poppy, Primrose, Rose, Bluebell and Lavender, all of which come with twin or double beds, large TVs, air conditioning, en-suite bathrooms and outdoor patio areas.
View Our Special Offers
Do I need to wear a tie to a summer wedding?
The simple answer is, it's up to you! If your wedding is planned for the middle of summer, it might get a bit hot in your formal attire, so you might opt not to wear a tie.
Some couples prefer the groomsmen or guests to at least arrive wearing ties so that they can be wearing them in the photographs, with the option to take them off later if they want to feel more comfortable.
If you specifically do or don't want people to dress a certain way, make sure to let your guests know in advance of the day. Including it on the invite is a great way of making sure everyone sees it.
How to stay cool at a summer wedding?
As mentioned above, many male guests may choose to lose their ties as the day progresses, and the same goes for waistcoats as the temperatures climb. Wearing cooler clothes is usually easier for your female guests, with many opting for loose fitting dresses.
If you're getting married in summer, it's also important to make sure your venue is the right temperature. The Baronial Hall at Crondon Park is fully air-conditioned and temperature controlled to make sure you and your guests stay comfortable all day and evening.
What colours are best for a summer wedding?
Summer weddings are known for having an injection of colour – from the bright green of the countryside, to the azure skies and bright outfits of your guests. Pastel shades can also look great in the summer months or opt for a more toned-down palette if you prefer. Don't feel like you can't use certain shades, such as navy, just because they are popular in other seasons – there's always ways to make your wedding feel more summery if that's what you choose.
Some brides choose to coordinate the colour of their bridesmaid's dresses, to the flowers, centrepieces and even makeup.
What wedding flowers are available in summer?
If you're getting married in the summer, you'll be pleased to hear that some of the most sought-after blooms are naturally at their best at this time of year. If you're going for bright and bold, peonies, dahlias and even sunflowers are all popular, whilst if you're looking for pastel tones, hydrangeas and roses are always beautiful.
As well as bouquets and centrepieces, why not consider experimenting with flower crowns for your bridesmaids or flower girls?
What our guests say…
"We had the perfect day. Lindsey and the team were brilliant and were there to make our day run as seamlessly as possible, preventing us from any stress or drama at all. We love Crondon Park - it has a special place in our heart and we would highly recommend it to anyone considering booking their wedding there. Thank you."
"We got married at Crondon last Friday and we cannot find the words to express how truly amazing our day was. We did the booking and planning through Fiona who was lovely and on the day we had Deborah who was just incredible - nothing was too much trouble and she really put us both at ease. The food was amazing and all of our guests commented on this as well as the beautiful venue. Wish we could do it all again. Thanks so much to everyone for really making this the best day of our lives."
"Amazing venue and we had the best day. Maitre d' was incredible and really helped to make the day as easy and smooth as possible. She is a real asset to your team."