Augusta National Golf Club, Georgia. Home to the golf calendar's first major of the year since 1934 and the only major to be hosted at the same course every year. But it's in the last 20 years that we've really seen the course's best, most challenging and most surprising times. Ahead of The Masters 2017, we review the best of the past, the moments to forget and some of the things you may not know about the home to the first major.
Did you know?
Among all the traditions and really well known facts about beautiful Augusta National. But how well do you know Augusta and The Masters? Did you know these facts?
This year the course measures up at 7,445 yards, which is well over 600 yards longer than when it first hosted The Masters in 1934
The Masters tees (Black tees) are almost 1100 yards longer than the members' tees, which sit at a still-impressive 6,365 yards
Originally, the course started on the now 10th tee which was a relatively simple 400-yard par 4, leaving a simple wedge in from the elevated tee. However, Perry Maxwell made one of the most important transformations in golf architecture history, swapping the 9s around (making this the 10th hole) and moved the green to its present location, on top of the hill; 50 yards further back, making it one of the toughest holes on the course.
The 11th, 12th and 13th holes, or "Amen Corner" were first coined by Herbet Warren Wind in 1958 for his article in Sports illustrated. Named after "Shoutin' in that Amen Corner" by Andy Razaf (controversially however).

"Eisenhower Pine" previously sat proudly on the 17th hole

Eisenhower Tree (or Eisenhower Pine) on the 17th hole, is called so as President Dwight D. Eisenhower hit the pine so many times, as a member, that at a club meeting in 1956 he proposed it be cut down. The meeting was adjourned to avoid offending The President. Unfortunately, the tree was removed anyway in 2014 after severe damage from an ice storm.

The beautiful entrance to the Clubhouse, Magnolia Lane is now only flanked by 60 trees rather than 61, after a severe thunderstorm in 2011 felled one of the trees. The trees were grown from seeds planted by The Berckmans in the 1850s!
Membership fees are more than your average local Sunday course, with fees reported to range between $10,000 and $30,000 per year! Although notable members do include Warren Buffett and Bill Gates, so we're sure they can afford it.
Only the current Masters champion is permitted to remove their jacket from the grounds of Augusta and only for that one year period. There are only 2 Green Jackets existing outside of the club: Gary Player's which now resides in his personal museum and 1938 champion Henry Picard; which is now on display in the "Picard Lounge" at Canterbury Golf Club, Ohio.
The Best of the Past
The Masters seems to bring out the best, most spectacular and most memorable moments in the golf calendar every year! Here's our collection of our favourite moments (so far!):
3) Bubba Watson – 2012
The soon to be 2-time winner made the most of being left-handed, coming out of what was a tricky lie with a miraculous 52-degree wedge; turning it 40 yards left-to-right into the 10th green. Sinking his 2-putt par to win his first Masters tournament amid breaking down into tears. Only Bubba would play Bubba golf in The Masters playoff.
2) Louis Oosthuizen, 16th hole – 2012
We debated Louis' 253-yard double eagle, an insane feat on its own. But with this, you could never find a better use for the term "by luck or by judgement" and we like that! The South African, finding the green well at the 170 yard 16th hole, saw his ball rolling round the green and using the slope the come within three feet. However, it wasn't rolling towards the hole, it was rolling towards playing partner JB Holmes' ball. Rolling into Holmes' ball, it took the most fortunate of turns and dropped in the cup. Calculated?
1) Tiger Woods, 16th hole – 2005
This must sit at number 1 for our list as it's just so iconic, as one of golf's, and sport's, modern greats kept up his pressure on Chris DiMarco. DiMarco had landed safely in the middle of the green (2 shots behind) whilst Woods was off the green, left. Woods aimed an audacious chip 20-25ft left of the pin, which rolled perfectly around the slope of the green before stopping millimetres short of the hole, for a second, before dropping in. Pure class, pure Tiger.
The Ones to Forget
What goes up, must come down; as we all know in golf! But these three really did come down, hard. We feel for them, we've all been there guys! Remember these?
3) Rory McIlroy – 2011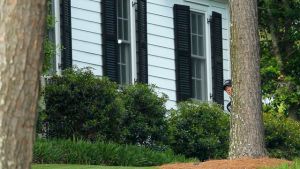 If pulling your drive way into the trees on the left isn't enough, even being on the verge of a guest cabin's garden was completely recoverable. However, several shots later, Rory left the 10th with an unprecedented triple bogey, followed by a bogey on 11 and a four-putt double bogey on the 12th, the par three. If that's not bad enough, he drove his ball straight into Rae's Creek on the 13th. It's safe to say his four-shot lead didn't survive that. But, fair play to McIlroy, he did win the U.S. Open 8 weeks later by a superb eight shot margin.
2) Jordan Spieth – 2016
Spieth can almost call Augusta his second home with a win and two runners-up finishes in his last three tournaments. But unfortunately for him, that doesn't tell the whole story. Five up with nine to play, you may as well have given it to him. Even after 10 and 11 were bogeyed, it still looked comfortable. However, it was his efforts on the 12th that puts him on number 2 in our list. A lacklustre tee shot into the water was poor enough, but he caught his 3rd shot fat and shared the same fate, leading to a quadruple bogey and one of the most shocking falls from grace in one round. Still, we're sure Danny Willet never minded…
1) Greg Norman – 1998
Oh Greg! The world watched in agony and cringed as Norman teed off on Sunday, leading by 6 shots. But as Augusta shows, no win is nailed on. Three straight bogeys on 9, 10 and 11 meant Faldo had now caught him. It seemed that was enough to tip Norman over the edge as he too found the water on the par-three twelfth. He all but shot himself down and offered himself and the Green Jacket to Nick Faldo on a plate, finishing on a Sunday-golfer's score of 78. Faldo gladly obliged though and saw himself through to his 3rd Masters win.
Special inclusion for Roberto DeVicenzo – 1968
A timely inclusion for the Argentine. He had, for all intensions, put himself into a playoff with Bob Goalby. However, he hadn't noticed playing partner Tommy Armor had marked a "4" instead of a "3" on the 17th. Unfortunately, penalty included, means he lost out to Bob and no chance of a green jacket for him. Sound a little too familiar for Lexi Thompson?
So, that's our little facts, best and worst leading up to the 81st Masters tournament. Do you agree with our picks or would you have chosen differently? Let us know on Facebook or Twitter.