The Baronial Barn Wedding Venue in Essex
Your Award Winning Wedding Barn
At Crondon Park, we're proud to be home to one of the most beautiful and popular barn wedding venues in Essex. The Baronial Hall, was built back in 1606 and is still considered one of the finest examples of a Tudor barn, winning Highly Commended in the Barn Wedding Venue category and Best British Countryside Wedding Venue at the British Wedding Awards.
At a Glance
Located in the picturesque stock valley, the rustic beams and high ceilings of the Baronial Barn create the perfect ambience, while the Essex countryside setting provides a stunning backdrop to your photos. Nestled in the grounds of our champion golf course, our venue also includes a ceremony room, bar and dedicated kitchens, as well as onsite accommodation.
Historic charm in a modern setting
Barn weddings are becoming an increasingly popular choice for modern couples looking for the perfect venue. In fact, in the UK, one in every six wedding receptions is now held at a barn, compared to just one in fifteen back in 2014. Barns also tend to be quite spacious, which is a major plus for many couples who wish to invite an ample guest list.
More than just an Instagram-friendly location, Crondon Park barn weddings are popular because of the relaxed and timeless atmosphere we help to create. The versatility of our barn venue means the possibilities are endless – dress it up for a glamorous look, or keep it simple for a more vintage and rustic vibe, the choice is yours and we can work with you to bring your visions to life.
Our Baronial Barn gives you the best of both worlds; enjoy the historic charm that a Tudor building brings while taking advantage of the features you'd expect from a modern setting.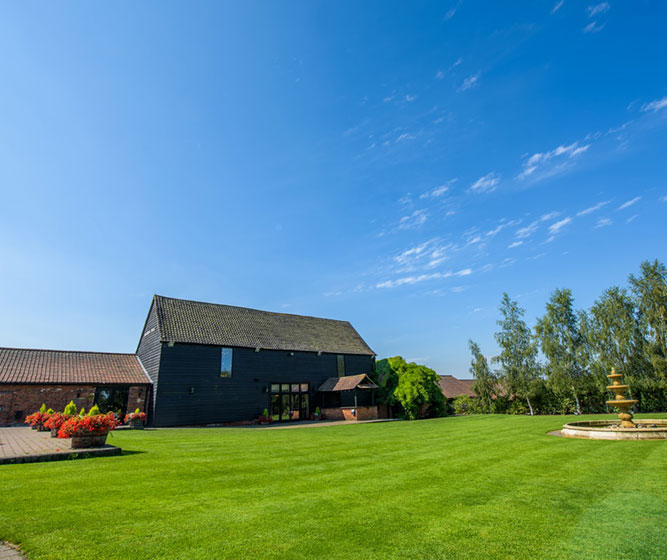 The Wedding Venue
Nestled in the Essex countryside but still easily accessible from London, we're proud to have the ideal location for your barn wedding. The Baronial Hall's unique history is enhanced by beautiful rosewood flooring and is an ideal choice for all seasons.
With a bespoke and individual approach, we go above and beyond to make your day perfect. One of the many reasons behind our thousand positive reviews, is our personal touch. Nothing is too much trouble for the team here at Crondon, and we will work with you to bring your dream wedding to life.
View Venue
Food and drink
As well as offering stunning surroundings to soak up the atmosphere, treating your guests to delicious food and drink is also one of our top priorities.
Our chefs can cater for your entire event, including everything from your post function breakfast, to a delicious evening buffet. For evening sustenance, our famous hog roast is a popular choice for our guests, as is our delicious mini fish and chips, but we can also offer alternative and vegan options on request.
We understand that deciding on your final menu can be a difficult choice to make. We know you'll want to make sure everything is perfect on the day, so we offer you the chance to experience the quality and presentation of our cuisine before hand with our food tasting experiences.
View Sample Dining Menu
Request our free wedding brochure
Our brochure is a fully comprehensive reflection of what we have to offer. From our special Wedding Ceremony room, to our Baronial Hall Barn, it is no wonder that we are considered the wedding venue in Essex for all occasions.
Click here
Accommodation
Our onsite accommodation allows you to relax on your big day, without having to worry about transport at the end of the night or whether your bridesmaids will arrive on time for hair and makeup. It also allows you to spend extra time with your guests, as all our overnight accommodation includes a full English breakfast served in our Master's Lounge the following morning. Our secluded Granary Bridal Suite is located 30 yards from the Baronial Hall, with views across the valley, a 4-poster bed, beautiful oak-beamed décor, large TV and free standing bath. A further five rooms, 'Poppy, Primrose, Bluebell, Rose and Lavender,' are also available for your guests to unwind in, all with en-suite bathrooms and air conditioning. This additional accommodation option is ideal for close family or bridesmaids.
New Accommodation
Opening in March 2023, we have an exciting new addition to our luxury accommodation, a night before the wedding family room. This additional feature provides the perfect space to be surrounded by your nearest and dearest, ready to receive your Makeup, nail artists and hairdressers in good time and ensure you have a leisurely start to your special day. Situated in the main building, adjacent to the breakfast lounge and Pizza Restaurant; this generously sized room sleeps six to eight people n includes Full English and Continental Breakfasts.
View Accommodation
Wedding package offers
We understand that budgeting for the cost of your wedding may feel daunting and we aim to offer both exceptional service and value to every customer. We proud to offer some of the best value of any barn weddings in Essex, with our most popular fully inclusive packages starting from just £4,995.
We also only offer exclusive use of the Baronial Hall and ceremony room so you can enjoy a private bar, canapes, three-course meal, evening buffet, post-function breakfast, and dedicated front of house, waiting and bar staff all at your disposal.
Visit our special offers page, download our wedding venue brochure, or speak to us about arranging a visit to find out more about how we can cater for your special day.
View Special Offers
How popular are barn weddings?
Barn weddings are becoming more and more popular, especially in counties like Essex that boast rolling countryside, yet are easily accessible from larger towns and cities.
Barn weddings in Essex are on the rise, as they are throughout the UK. In fact, data from Hitched, suggested that barn weddings were the most popular venue type in 2019.
Why are barn weddings so popular?
One undeniable reason barn weddings are growing in popularity, is the photo opportunities they present. Rustic settings surrounded by rolling countryside makes for great wedding shots, and something that's a little different from the norm.
In fact, one of the great things about barn weddings is that they give you the freedom to ignore traditions if you choose to. They naturally create a more laidback atmosphere. For example, many of our guests love our hog roast, as an alternative to a more traditional evening buffet.
Barn weddings allow you to create a day that's more personalised. Think of it as a blank canvas that you can tailor to suit you – from the décor, to the outfits, to the photos.
We're happy to report that barn weddings are still going strong! We're holding weddings every day from the Baronial Hall, not just because barn weddings have become a trendy option, but for a whole host of more practical reasons too, including how spacious they are, the history and culture they bring to your big day, and how customisable they can be.
There will always be trends when it comes to weddings, but the most important thing to remember is that it's about what you want. Think about what fits with your colour scheme, your preferred cuisine, and your budget for example, before making a final decision.
Our Essex barn wedding venue is ideal for all seasons, thanks to the Baronial Hall being fully air conditioned and temperature controlled. The hall underwent extensive refurbishment and improvements in 1995, during which the walls were reconstructed with modern thermal materials, allowing us to temperature control the hall. This means you can be safe in the knowledge that you and your guests will feel comfortable all day, whenever your wedding is booked for.
What Clients Say About Our Weddings in Essex
Product Name: Weddings in Essex
Product Description: Wedding Venue
Hitched UK
What can I say! Thank you so very much for making me one of the happiest girls ever! To say Mike and I had a great day yesterday would be the biggest understatement; we have had so many lovely comments from our guests on what a wonderful wedding we had and that's all down to you. The food was perfect, the bar and waiting staff were nothing but polite and extremely efficient and Tracey as our front our house was flawless. I've had so many calls and emails back fourth with Kara and the wedding team over the last year or so. Each time, nothing has ever been too much trouble, emails are responded to so quickly and how Kara remembers so many faces, dates and names is beyond me! There are so many beautiful wedding venues out there, but those venues are only ever as good as the people behind it. You not only have a beautiful venue but you also have so many brilliant staff who make that venue shine. From the bottom of our hearts, thank you!
What our couples say…
"We had the perfect day. Lindsey and the team were brilliant and were there to make our day run as seamlessly as possible, preventing us from any stress or drama at all. We love Crondon Park - it has a special place in our heart and we would highly recommend it to anyone considering booking their wedding there. Thank you."
"We got married at Crondon last Friday and we cannot find the words to express how truly amazing our day was. We did the booking and planning through Fiona who was lovely and on the day we had Deborah who was just incredible - nothing was too much trouble and she really put us both at ease. The food was amazing and all of our guests commented on this as well as the beautiful venue. Wish we could do it all again. Thanks so much to everyone for really making this the best day of our lives."
"Amazing venue and we had the best day. Maitre d' was incredible and really helped to make the day as easy and smooth as possible. She is a real asset to your team."